Inhabitants section 098-896-4045
National Health Insurance
All the villagers until 74 years old except member of medical insurance of the workplace, please take out zamami village National Health Insurance. You carry out group medical examination (specific medical examination) and medical examination with contract medical institution in Okinawa Island once a year in village, and please have a medical examination by all means as you assist a part of consultation charges to person of specific medical examination object (40-74 years old).
Health promotion business
We perform metabolic preventive specific health instruction in object toward the National Health Insurance member 40 years or older and support health promotion of everybody.
Conduct of exercise classroom that anyone can participate in
Non-smoking outpatient at two places of medical offices in village
Mental health consultation with psychiatrist doing the next village from Okinawa Island
Longevity (elderly aged 75 or over) medical system
Or it is one younger than 74 years 65 years old or older, and uniformity having a defect joins, and one 75 years or older is medical system to run while having you bear premium that accepted income. Questions about premium payment casually to inhabitants section.
National pension
National pension system is emergency failure due to disease, injury, system of country for the purpose of providing with pension when we lost real worker again, and supporting life as well as the old age. We may not receive pension as nonpayment, but please consult with government office as there is system to remit premium in the case of the retirement and unemployment.
Welfare of persons with disabilities
When disorder remains for disease and injury, we can apply for certificate of the physically disabled. When notebook is issued, kind treatment, utilities and NHK broadcast license fee reduction of taxes in the taxation system are received, and there is medical expenses furtherance and person with a disability allowance toward payment and the severeness of assistive device.
The elderly person welfare
Zamami villager common wish to want seniors who supported island to live in peace forever in island that lived so long was in zakammi*seienkaisho in October, 24 or stood.
We succeed service that zamami village Council of Social Welfare provided and we stay with tsusho (day service) and provide facility service of (short stay) and service that there is not of at-home (home-help service) being united, and breaking off for 24 hours, and the elderly realize care in island that lived so long until now. Satellite office where we applied a part of the health center in was opened in Aka Island.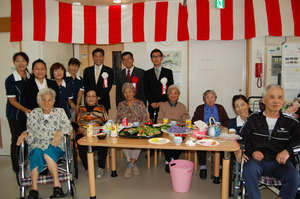 Design of zakammi*seienkaishoshiki