Naha - Zamami Port, Aka Port rate
Ferry Zamami
We look at high speed ship queen state
One-way fare
Round-trip fare from Naha
One-way fare
Round-trip fare from Naha
Adult
2,120 yen
4,030 yen
Adult
3,140 yen
5,970 yen
Children
1,060 yen
2,020 yen
Children
1,570 yen
2,990 yen
Adult group discount (more than 15 people)
1,910 yen
3,820 yen
Adult group discount (more than 15 people)
2,830 yen
5,660 yen
Children group discount (more than 15 people)
960 yen
1,920 yen
Children group discount (more than 15 people)
1,420 yen
2,840 yen
Adult person with a physical disability discount
1,060 yen
2,120 yen
Adult person with a physical disability discount
1,570 yen
3,140 yen
Children person with a physical disability discount
530 yen
1,060 yen
Children person with a physical disability discount
790 yen
1,580 yen
| | |
| --- | --- |
| ※Platform is Tomari Port southern coast (the Tomari Port terminal "Tomarin previous departure from a port")     | ※Platform is Tomari Port northern coast (the purchase at northern coast box office is convenient) |
Diamond of sea route is this>>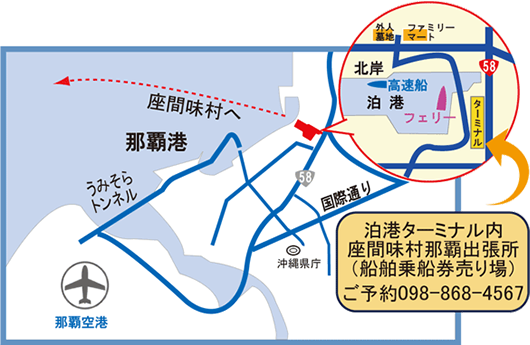 High-speed access method to go to zamami village by ship is recommended to Tomari Port by taxi from Tomari Port from airport.
Doorway "Tomari Port" (we stay and grow on) of the sea to remote island is 10-15 minutes by taxi from Naha Airport.
Please confirm usage of monorail bus by Q&A.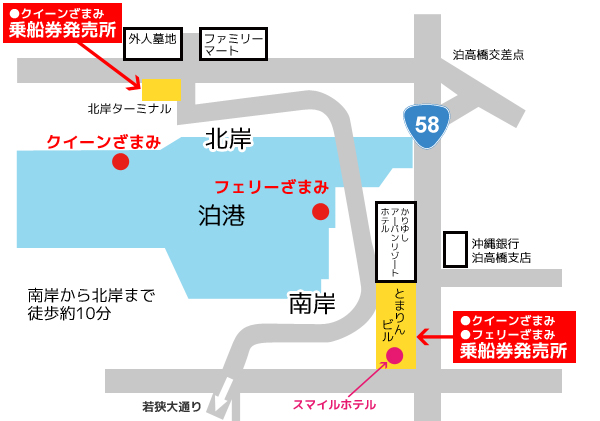 Among ships to zamami village, as for the ferry, seeing departs from Tomari Port northern coast high speed ship queen state in front of "Tomarin".
Zamami village has two ports of Zamami Port and Aka Port of Zamami Island (zamamijima) of Aka Island (akajima), and surface mail from Naha enters both.
Please enjoy comfortable sea voyage to islands of Kerama.
As for the Shimauchi bus schedule, please see page of "public transport" (ship, bus in village).