Position and the area of the zamami village
Islands "Kerama Islands" of the subtropical zone floating in the East China Sea of approximately 40km by ship to the west for approximately 50 minutes high-speed from prefecture capital Naha-shi keramashotou. Zamami village is remote island village consisting of islands of the western half. We are known for scenery out of the sea excellent at transparency and the beautiful sea colored by one of the world's best coral reefs, many tropical fish, and diver visits throughout the year. It is covered, and, as for Zamami Island zamamijima, Aka Island akajima, each three manned islands of Geruma Island gel Majima, natural monument Kerama dimosquitoes inhabit subtropical forest. A flock of humpback whales visits village sea area of the winter season for breeding and child care and can see daring performance.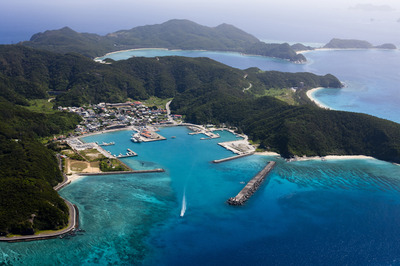 〒901-3496 109, Zamami, Zamami-son, Shimajiri-gun, Okinawa
Zamami village government office 098-987-2311 (main)
Village chapter of zamami village

They graphically designed the of Zamami, and, as for dark blue and the yellow, division and central wide image gathered up to the richness, Japanese yen of island symbolized peace of island and limitless development. (May 1, 1966 establishment)
Flower of zamami village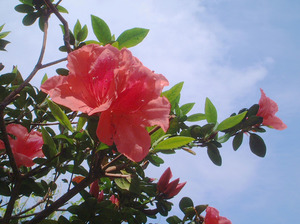 Summary of zamami village
1. Approximately 40km, Kerama Islands are inner from position Okinawa Island Tomari Port to the west
2.Area total area 16.74k heihometoru Zamami Island 6.71k heihometoru    Aka Island 3.96k heihometoru    Geruma Island 1.22k㎡
3.Population and number of the households April, 2018
| | | |
| --- | --- | --- |
| Character name | Population (person) | The number of the households (door) |
| Zamami Island | 603 | 363 |
| Aka Island | 261 | 163 |
| Geruma Island | 62 | 38 |
| The total | 926 | 564 |
4. Work force 2015 national census
The first 11 people 2.1%
The second 29 people 5.5%
The third 92.4% of 488 people
5. Traffic
[sea route] Village ship    Zamami village government office government enterprise section 098-987-2614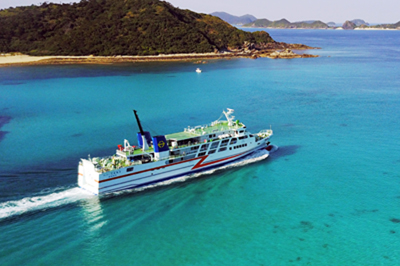 ▲Look at ferry state; III (490 669 tons of capacity) Naha ⇔ zamami village 90 minutes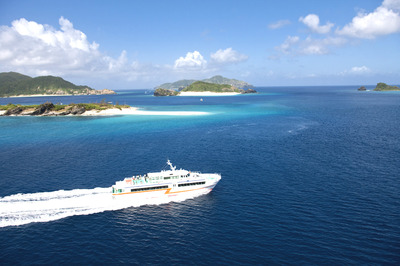 ▲Look at high speed ship queen state; III (200 168 tons of capacity) Naha ⇔ zamami village 50 minutes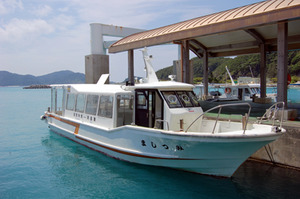 ▲Administrative ferry mitsushima (4.9 tons) Zamami Island ⇔ Aka Island 15 minutes
       
[by air] 098-857-7563 during helicopter charter flight navigation by Excel aviation
6. Information and communication
Zamami village emergency broadcast system system
Cell-phone (AU, NTT DOCOMO, SoftBank)
PHS (Willcom) October, 2007 service start
Zamami Island ADSL February, 2006 service start
Aka, Geruma Island wireless broadband (village) April, 2007 service start
※We provide WiFi in Zamami Port, Aka Port terminal.
7. Finance

Amount of 2018 original budget general account 2,205,730,000 yen special accounts 1,072,920,000 yen
Industry of zamami village
[agriculture]
Cultivated area 1.156 ares in area area under tillage 838 ares
35 farmhouse number of houses
Waking (potato) of main product pickled shallots, papaya Incaic civilization, cow for meat, goat for meat
[fishery]
42 fishermen's cooperative association union members (29 inner associate union members)
66 number of fishing boat and the play fishing boats
30 tons of catches of fish (2010)
Main fishery products Nemacystus decipiens
[sightseeing]
Main public facilities of zamami village
[road]
Prefectural road 150m, village road 26km, farm road 1.2km, forest road 11km
[harbor]
Zamami Port, Asa Port, Geruma Port
[fishing port]
[other ports]
[airport]
Kerama Airport (the third kind airport)
[medical facilities]
Zamami medical office attached to prefectural southern part medical center, child medical center
Aka medical office attached to prefectural southern part medical center, child medical center
Zamami dentistry clinic
Zamami village health instruction place
Zamami village health center
[the police]
Naha police station Zamami police box
[culture facility]
Zamami remote island promotion synthesis center
Aka remote island promotion synthesis center
Zamami community center
Zamami child student interchange center
Village contact open space of whale
Experience-based stay interchange facility (Zamami Island Asa)
Marine experience-based facility, boathouse (Zamami Island Ama)
Climate information of zamami village
[weather information according to annual] Document: Okinawa Meteorological Observatory
Temperature (℃)
Precipitation (mm)
Wind velocity (m/s)
Yearly average
The best
A minimum
The gross weight
Day maximum
Yearly average
Maximum
2007
23.4
25.4
21.6
2518.0
351.0
4.5
35.0
2008
23.3
25.4
21.4
1396.0
122.0
4.1
16.0
2009
23.3
25.6
21.4
1640.5
114.5
4.2
21.8
Geographical features and the height above the sea level of islands
Zamami Island
We are greatly divided into southwestern side block and northeast side block after the neighborhood of Asa of village place.
We form high place in succession so that the shore mainly depends on southwest side blocking in high Gassan (131.4m above sea level).
Aka Island
Mt. Naka-dake (131.7m above sea level), takehara (165m above sea level), the mountains of Mt. kubo (158.3m above sea level) mainly range in Mt. size of central part of island.
Geruma Island
Yamaji from height above the sea level 157 to 158m follows nearer the west from the center of island. Mitake (147.4m above sea level) is in the northeastern part and is like heap of mountains of one whole island.
kyujoshima
There is Mt. (270.1m above sea level) of kyujoshima on southwestern side of island and is the most high place in Kerama Islands.
Yaka ratio island
There is high place (214.4m above sea level) called "Mitake" in the north side of island, and mountainous district ranging in this halves island to east and west. There is the only flatland of 5-10m above sea level on the East Coast side.
Natural environments
Paradise of coral reef nearest from Okinawa Island
Sea area that coral reef develops in the inland sea dotted with islands bordered by sand bar, and attracts diver by beautiful underwater scenery. It was enrolled in Ramsar Convention in 2005 and became globally valuable area. Mysterious scene that coral lays eggs all at once at night of summer full moon is seen, and Kerama sea area is called hometown "of" coral doing zo* around Okinawa Island.
June, 2012, ecotourism promotion method authorization 
Public and private sectors are united, and Zamami sharing the sea of Kerama in March, 2006, both villages of Tokashiki will promote sea area maintenance and start at "Kerama natural environments maintenance meeting". We tried for protection of coral while getting rid of pest which ate away coral including acanthaster led by diving company. In June, 2012, "whole Kerama area ecotourism promotion design" was secondly authorized based on the ecotourism promotion method in the whole country. (issue first for whole design with designation of specific natural tourist attractions)
Treasure house of natural monuments    
Kerama dimosquito and the habitat (May 15, 1972 country designation)
Japanese wood pigeon, dirt mustache (May 15, 1972 country designation)
False cod lizard    (November 9, 1978 country designation) 
Okinawa Kaigan Seminational Park (December 9, 1978 country designation)
Ramsar Convention registration (November, 2005)
Kerama Islands national park (March 5, 2014)
The history of zamami village
[island of way station of Chinese ship trade]
Mitsugu Shin ship, satsufusen from Tang which departed from Naha dropped in at urako of amamori of Zamami island after inhabitants were full of marine thought from old days, and 1350 nensatsudoo linked tribute paid to the court relations to light country because it was awaiting wind, and able sailor of most produced from Motomura. We told Naha about putting up beacon in signal fire stand of Mt. guard station (bandokoroyama), and Chinese ship having approached, but antenna of the cell-phone companies stands on current guard station mountain.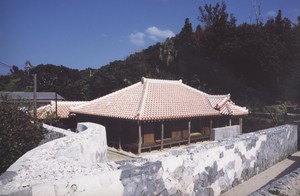 The important cultural property Takaras house (May 11, 1988 country designation)
[island of faith]
Because faith was ardent, Motomura was known with kyukoshima. There is religious service lost with the times, but much haisho in village shows faith of villager.
God event along the old calendar is carried out every month, and villager is still inheriting autumn sea Buddha's wish for salvation of the world (Japanese cormorant cancer) as maritime people carefully now.
[island founded in bonito fishery]
First village mayor Wasaburo Matsuda founded bonito fishery in 1901 (Meiji 34) and spread out in whole Okinawa. Dried bonito "Kerama gnarl" of Motomura product was known as pronoun of quality goods in market of Naha, but bonito fishing as industry was cut off by lack of successor.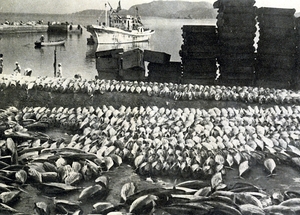 [island of copper ore]
We were mined until World War II in Yaka ratio island and kyujoshima from the early period of Meiji, and many people engaged. Yaka ratio island, kyujoshima become usually put under ban of the landing now only by villager coming in the case of Shinto ritual together.
[place of World War II (Battle of Okinawa) U.S. forces landing first step]
It became land in the Battle of Okinawa on U.S. forces beginning on March 26, 1945. Many villagers including person of group self-determination are sacrificed and hold memorial service in village every five years. (as for the next time plan of 2020)