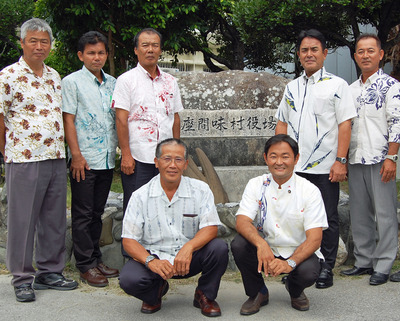 (photograph: on September 29, 2014)
We issued assembly letter
In April, 2017, we issued assembly letter.
Look from this; news from ⇒ zamami village assembly April, 29 issue. pdf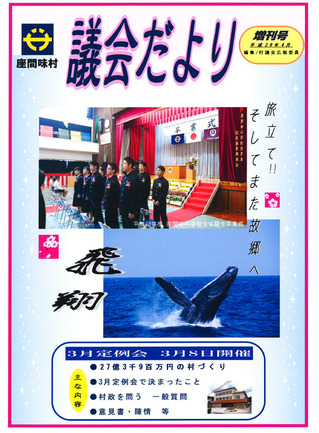 Do you not observe village assembly?
Plenary session of village assembly is released. Member of a village assembly holds what kind of meeting and can observe one wanting to know whether you are reflected by village administration.
If it is entered assembly hall, please observe calmly. We cannot express the right or wrong by applause and words about remark in assembly hall.
■Plenary session
Anyone can observe, but the number of the seats is limited. You offer hearing in City Council Secretariat before the opening of a meeting, and please enter after filling out full name, address.
■Committee
Permission of chairperson is necessary for hearing of committee beforehand. Please report to City Council Secretariat beforehand.
Role of assembly
Village assembly which is representative of villager is given authority such as voting right, investigatory rights, inspection right to claim. Based on these authority, we do following work.
■Decision
・All the work of village is performed along "the regulations", but decide establishment and revision, the abolition of these regulations.
・We decide use of the budget for village of the next fiscal year and authorize financial statements of last year.
・We decide the conclusion of important contract of village.
・We decide the acquisition and disposal of property of village.
・When village mayor elects the deputy mayor or checkup committee, we give agreement.
■Check of village administration
Through question in general interpellation and committee in assembly, we ask about whether it is performed according to the expectation of villager appropriately, and there is village administration.
■The acceptance of petition and petition
We accept petition and petition given to village assembly by villager and decide adoption, non-adoption as assembly and hand item to executive organ including village mayor when we are adopted.
※Petition and petition are to request for villages and are right of villager established in Local Government Act. Petition is thing with introduction of member of the Diet, and petition means few thing.
■Presentation, resolution of statement of position
About matter about the public interest of village, we submit statement of position to country or prefecture and decide to clarify intention of village assembly.
Administration of zamami village assembly
There are ordinary assembly and extraordinary session of a local assembly to hold as needed in village assembly, and village mayor performs call. We perform ordinary assembly four times a year in (March, June, September, December).
■Plenary session
Plenary session discusses bills, and, at meeting deciding the final intention of village assembly, attendance more than half of the member of the Diet fixed number is required by Local Government Act. Village mayor explains suggestion reason about bill in plenary session and member of the Diet asks about the administrative execution of bill and village and gives opinion.
■Committee
(decision) is plenary session, and the final decision of village assembly is made, but may install special committee to do the specialized deliberation.
Member of the Diet list
Term of member of the Diet: From September 28, 2014 to September 27, 2018
The number of members of the Diet: Seven regulations fixed number (June 11, 2010 establishment)
The chairperson

Yuji Miyazato (miyazatoyuuji)
Position political party: Independent
The number of times elected: Three times
Zamami
Vice-president

Isami Nakamura (Nakamura is stirred)
Position political party: Independent
The number of times elected: Once Aka
Member of the Diet

Kifumi Miyahira (miyahirayoshifumi)
Position political party: Independent
The number of times elected: Once
Zamami 
Member of the Diet

Joji Miyahira (miyahirajoji)
Position political party: Independent
The number of times elected: Once
Zamami village checkup committee (gisen)
Member of the Diet

Kiyoshi Miyahira (miyahirakiyoshi)
Position political party: Independent
The number of times elected: Once
Zamami
Member of the Diet

Taro Kakihana (kakinohanatarou)
Position political party: Independent
The number of times elected: Once
Aka 
Member of the Diet

Hidekatsu Nakamura (nakamurahidekatsu)
Position political party: Independent
The number of times elected: Four times
Geruma