---
In zamami village, cottage

(one log house for rent)

is two places.
With cottage of young people trip village which added
campground
close to Ama beach of Zamami Island
,
Cottage in uhama district at the east end of Zamami Island.
The sea can enjoy Nature soon both.
・All cottage

(in front of Zamami Island / amateur beach

)

of amateur district six 
[guidance and application for amateur cottage] Zamami village campground TEL 098-987-3259
 Zamami Port ⇔ amateur cottage (amateur beach) approximately 1.6 kilos 
  Foot    Time required approximately 25 minutes
・All cottage

(Zamami Island)

of uhama district five (two barrier-free types)
[uhamakoteji guidance and application]
Zamami village Tourism Association TEL 098-987-2277
 Gulf which is quiet like lake when we pass through forest of casuarina. There are cottage and experience-based activity ridge in uhama district of Zamami Island at the east end.
 Hearing only as for voice of bird and sound of wind and the dim sound of the waves. Please spend time in Nature. 
 It is 15 minutes by Zamami Port ⇔ uhamakoteji (Asa district) approximately 5 kilos car
 There are no service, pickup and drop-off of village bus. We recommend the use of rent-a-car.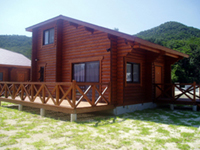 There are three loft types of photograph and two barrier-free types (with one-storied house, bathtub).
 [uhamakoteji facilities]
 Air-conditioning shower room Western style restroom washroom kitchen kitchen utensil refrigerator bedclothing
 [the uhamakoteji fee for use]
 Cottage (to six people) 20000 yen per night
 We search guest house, pension                       
Guidance of cottage (in front of Zamami Island amateur beach) of amateur district
Table & chair of setting in cottage is changed in tatami-room table X 1.
Thank you for your understanding. 2016/4/23 update
Because it supports window at the time of the ship arrival in port, we may not answer telephone.
I apologize for the inconvenience, but please call back some other time.
We make reservation of Ama cottage from the same day two months ago on accommodation date.
Zamami village campground management ridge 098-987-3259 from 9:00 to 17:00
At the time of typhoon approach, it is thought to the first by security of customer
We may close campground & cottage.
We uploaded maps from Zamami Port to cottage
 Ama cottage usage guidance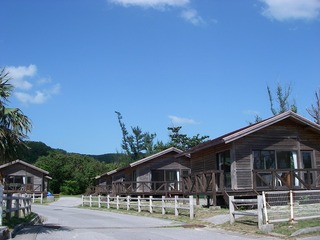 ■ One 21000 yen per night (tax-included) capacity: Ten people
・Only for minor cannot stay.
 ・We include in capacity from primary schoolchild (6 years old or older ...).
  When we surpass capacity,
 ・It costs rate of \300/1 night more than primary schoolchild \ staying on 150/1, junior high student.
※One sei (we include for bedclothing (pillow + towelling blanket) six) for rent
※There is rental bedclothing set separately. Please use as needed.
  One set of /1 night /400 Japanese yen (pillow + towelling blanket + mat mat)
■ In out time
Check-in 14:00 check-out 10:00 
Bedtime Quiet TIME 21:00 ...
  We would like that other customers trouble calmly after 21:00 p.m.
  We are excited about loud voice, and act to make loud sound hopes that we do not do
  We may have you leave in some cases.
※By status, sugukara, departure may be available after the arrival until just before that.
 Please refer on the day before on reservation day.
※We keep baggage with management ridge until time and, after the check-out, are possible.
■Reception desk management ridge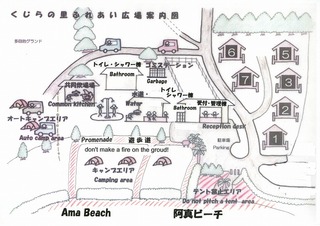 ・Reception hours from 9:00 to 17:00
※It is change existence by season
 ※In the case of arrival, please contact beforehand outside reception hours.
・Application entry / payment (only as for the cash) / room key & rental product delivery
・Zamami village designated garbage bag sale, one piece of large (45L) 40 yen small (20L) one piece 20 yen
・One baggage custody Exit /1 day / 200 yen (there are no locker facilities)
・Receipt (Yu-Pack and Yamato Transport Co., Ltd.) of home delivery
Receipt only as for the prepayment (one baggage custody rate Exit /1 day / 200 yen)
  〒901-3403 Ama, Zamami-son, Shimajiri-gun, Okinawa young people trip village campground management ridge is addressed
※When we fill out article name with camping equipment, it often becomes surface mail transportation,
   Please think with arrival one week later.
※Designation recommends designation that is earlier than the day of the accommodation on date of arrival of baggage.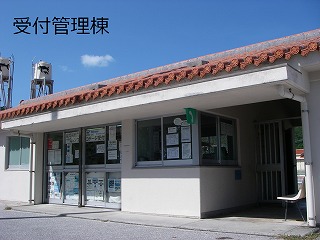 ■ Reservation, inquiry
Staying in cottage
is reservation required system.
 I would like reservation by all means. (possible for two months on use day)
 Zamami village campground management ridge 098-987-3259
Business hours from 9:00 to 17:00  050-3549-4304
 ※Before reservation, we recommend confirmation & reservation of surface mail of Tomari Port ⇔ Zamami Port.
 ※Please make a reservation after inquiry on the use in rental and group beforehand.
 Facilities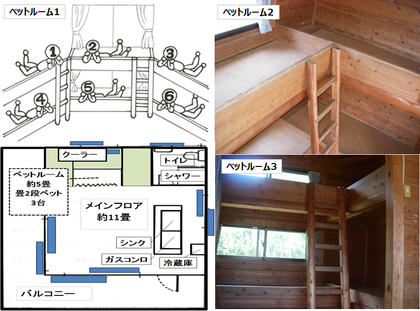 All six (the all same type of log houses)            
■ *3 two steps of tatami mat embedded Bet
※For bedclothing six people (pillow, towelling blanket)
※There are no mattress, comforter and sheet.
  We lie directly on the tatami mat and are towelling blanket
  It is bed of type to have you take a rest.
※In the case of accommodation, please use rental bedclothing set in seven or more separately.
One set of / 400 yen (pillow + towelling blanket + mat mat) a night
■ Shower room (there is no warm water available bathtub)
※There is no towel, toothbrush in setting of shampooing the hair
■ Western style restroom

(toilet paper reserve)
■ Kitchen (there is warm water available sink work space)
※There is no setting such as kitchen utensils
※It is rental kitchen utensil one set /1 night 500 yen separately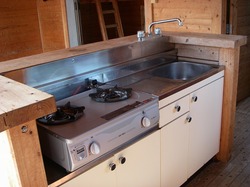 Please make a reservation as needed.
※As capacity is not big, it is convenient when we have you bring air conditioner box.
With management ridge, there is no rental of air conditioner box.
■ Gas ring (there are propane gas specifications, two shares)
■ Air-conditioner (there is setting only in Bet room)
※We come by use of
air conditioner
/
heating
.
※In use, it is more effective when we close curtain of Bet room.
■ Tatami-room table X 1 size 120cm X 75㎝
※Open fire, open fire, fireworks in cottage site and beach are prohibition.
  When you use fire, please use gas ring in BBQ stand and cottage by all means.
※You separate garbage to garbage bag of village designation, and please abandon to hall garbage station.
  You die down with water, and please throw away charcoal after use as "burning garbage".
Classification → "Bottle" "can" "plastic bottle" "garbage which burns"
"
Garbage"
(please abandon to polyester bucket of setting in garbage station)
 Rental 
Stock has limit. Please make a reservation beforehand by all means.
At the time of rental product rental, I take deposit 1,000 yen. Of damage and loss return as far as there is not.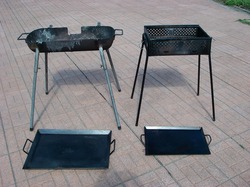 ■ BBQ stand very much (58cm *40cm) overnight / one 2,000 yen
■ BBQ stand small (45cm *32cm) overnight / one 1,000 yen
Contents: BBQ stand (charcoal type), tong two, detergent, gold scrubbing brush
   Iron plate or net (night one piece 300 yen additional in the case of the both use)
※Please bring ingredients, charcoal, seasoning, tableware, match. There is no sale with management ridge.
■ Kitchen utensil set overnight / one set 500 yen
 ※You wash, and please return
Contents: Kitchen knife, cutting board, ladle, saibashi, both hands hot pot, kettle, can opener, bottle opener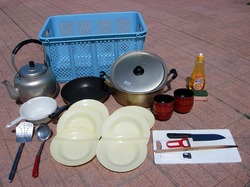 Six pieces of plates made of changing screens, plastic, six bowls, frying pan
※There are no chopsticks, spoon, fork. Please bring.
■ Rice cooker (we cook 5.5 go) overnight / one 1,000 yen
■ Bedclothing set  Overnight / one set 400 yen
※Pillow + towelling blanket + mat mat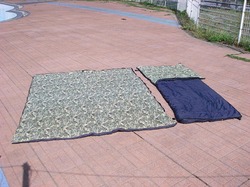 ■ Silver mat       Overnight / one piece 300 yen
※There is tatami mat Bet who is used by mattress substitute.
■ Sleeping bag  Overnight / one 500 yen
※We recommend rental in the winter season.
・Size 190cm X 190 that widened envelope size 84cm *190cm㎝