Would you you like to come to encounter sea turtle and anemone fish? 
Enjoy the world-famous Kerama Blue while snorkeling among colorful corals, fishes and even swim among sea turtles! In the sea of coral reef shining shiningly, we can meet anemone fish, sea turtle.
Place where zamami village is famous as laying eggs place of sea turtle. It is sea turtle and the sea to be able to swim if we attach snorkeling in shallows where beach is near. Oneself can taste feeling that grows, and was a success of the sea while being big, and looking at unhurried green turtle. You have you consider so that there is not that we surprise them not to get too close to sea turtle, and please enjoy snorkeling.
We can come across anemone fish which coral and group dancing, everybody of debasuzumedai shining for sunlight love at various places.
Snorkeling of various scenes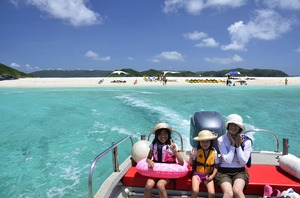 Paradise zamami village of the sea nearest from Okinawa Island. For snorkeling point, we stick out our chest if the best among Okinawa. In snail Hama of Old Zamami (we look at state to give up) and Aka Island of Zamami Island, we can play with close tropical fish which, by the way, crowds to coral from beach and can thoroughly enjoy beauty of coral reef in boat in uninhabited island for several minutes from port. In addition, it will be to take snorkeling to go for with guide by diving boat to see underwater scenery swallowing up breath.
It is zamami village to be able to enjoy snorkeling of such various scenes. You stay, and please enjoy a couple of points.
[snorkeling color color to be able to enjoy in zamami village]
Snorkeling in beach
Snorkeling in uninhabited island
Full-scale snorkeling to go for by diving boat
Snorkeling to go for by sea kayaking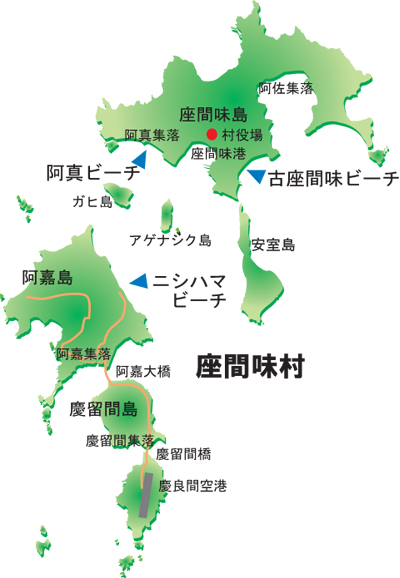 Rental of snorkeling item
Required item is water mask, snorkel, three points of sets of fin (foot fins).
As for the summer, rental is possible for around 1,000 yen in beach house of Old Zamami and snail Hama.
He/she lends period without business in beach in diving shops.
The first person learns how to use, and please enjoy safely.
※Please wear life jacket for drowning accident prevention to swimming power in one with confidence.

Inquiry of rental store 
Zamami village Tourism Association information desk TEL 098-987-2277 
Snorkeling in beach
Point that Old Zamami beach and snail Hama beach are representative as for the snorkeling in beach.
Both kind and the number of fish are abundant so as to be said to be "luxurious water tank of tropical fish".
For prevention of injury, protection of coral, please do not thrust foot in underwater rocky place either.
Old Zamami beach (furuzamamibichi Zamami Island)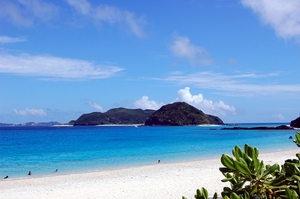 It is the beautiful sea which fish swims from 1 meter of depth of the water or less.
As they do not need to swim far, family with child is reliable.
For your security and protection of coral, please wear life jacket or float.
Taste beach access between Zamami Port ⇔ Koza
A 15-minute walk
Village bus: Rate in front of platform Zamami Port terminal: 300 yen for adults children 150 yen
Contact The TEL 098-987-2277 zamami village Tourism Association information desk
Ama beach (amabichi Zamami Island)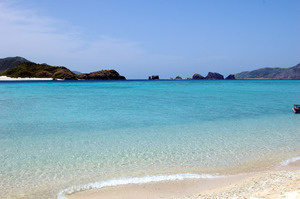 Shallow for a good distance from the shore beautiful beach in the west of Zamami Island. Scenery of islands floating in inland sea is the best.
Zamami Port ⇔ Ama beach access
A 15-minute walk
Village bus: Rate in front of platform Zamami Port terminal: 300 yen for adults children 150 yen
Contact The TEL 098-987-2277 zamami village Tourism Association information desk
Snail Hama beach (Aka Island)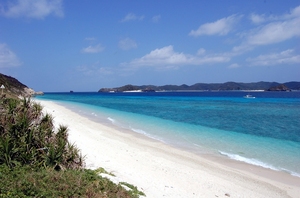 Snail Hama beach where white sandy beach and the blue sea spread through is totally like uninhabited island.
As hand of person does not increase very much, we can taste nature itself and a feeling of luxury of zamami village having no.
Underwater scenery is splendid, too, but please be careful about passage of opportunity.
Aka Port ⇔ snail Hama beach
A 15-minute walk 
Contact TEL 098-987-3535 sangoyuntaku building (Aka tourist information center)
Snorkeling in uninhabited island
Uninhabited island which floats in inland sea of coral reef...Agena Shikishima, ratio Island to praise flatter; Muroshima.
When enter the sea excellent at transparency at the beach of pure white Coral sand, there is paradise of coral and tropical fish.
It is closeness of from five minutes to ten minutes from port to each island. Ferries from Zamami Island to each island appear at any time during season
We accept introduction of ferry steamer in zamami village tourist information center 098-987-2277.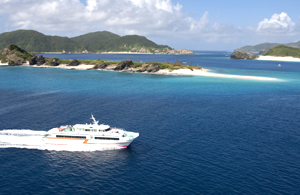 [Agena Shikishima] agenashiku island
Butterflyfishs are in Western shallows of island a lot and are most suitable for tropical fish watching. It is recommended to family.
As western tide of island becomes hard at the time of ebb tide; being careful.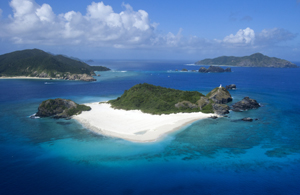 [ratio Island to praise] gahi island
It is beautiful island where most are covered on pure white sandy beach of island.
Green is covered in stock such as Pandanus tectorius or cycad.
In the sea excellent at translucency, the bottom of the sea, circle of sand bar in children's story is.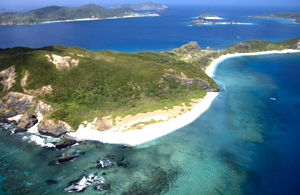 [Amuro Island] amuro island
When swim a little from the beach of the east side of island, stock of coral.
Let's swim with light blue debasuzumedai.
As this has depth of the water a little, it is spot for adults.
Snorkeling to go for by diving boat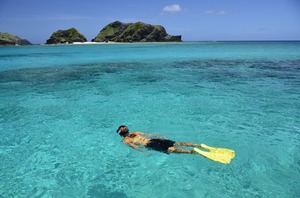 We recommend guide snorkeling with whom shop where decided makes a specialty of thing which wants to encounter including sea turtle and anemone fish guides.
Knowledge-rich guide of sea life takes with him/her to vaunted point and can enjoy full-scale snorkeling safely. You should make a reservation in front of the next village.
Snorkeling to go for by sea kayaking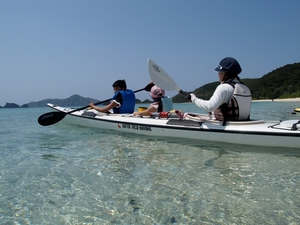 It is one-day tour from half day when sea kayaking shop carries out that popularity is high recently in family. We go the sea excellent at transparency by sea kayaking to uninhabited island and enjoy snorkeling and enjoy delicious lunch which guide cooks and. It is sea Nara of Kerama where wave is quiet that even small child can go together. It is picnic of the best sea.
Store specializing in snorkeling
Snorkel guide Wayama Sea cloud (wayamamozuku)   098-987-2069
Unexplored region snorkel guide ZAMAMI LIFE 080-2746-7892
From Dive Service Hi 098-896-4640
[inquiry about other snorkeling]
The zamami village Tourism Association information desk (098-987-2277)
⇒ shop search that we show around in this shop is »