Pleasant feeling to go for by sea kayaking over the transparent sea
Pleasant feeling to advance to glide in emerald-colored inland sea is kayak Nara.
Except the transparent sea to see to the bottom of the sand bar, tropical fish, sea turtle swim.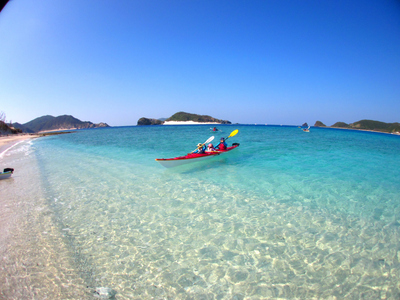 Sea kayaking to advance to to slip over the sea excellent at transparency to be transparent to the bottom of the sea of sand bar. In the sea which is crystal, please experience surprise to see coral and swimming tropical fish under eyes. Eco-friendly vehicle sea kayaking to advance by power of person is good to enjoy the sea of Kerama.
White sandy beach which is dazzling, and shines in the complicated topography dotted with islands of big things and small things, edge of uninhabited island. In the land and ship, viewpoint that was different from diving again, we can mention new charm of zamami village.
Malin leisure when both adult and child can enjoy sea kayaking together throughout the year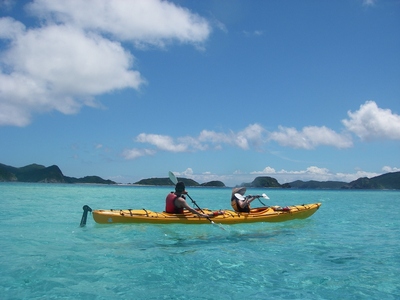 Driving force of KAYAC which does not post sale only in padoringu. What have slim line of the body features that sea kayaking makes it easy to cut wave and suppresses influence of wind in minimum while keeping going straight stability.
There are various kinds with for two people from one-passenger, but even some waves are stable. In inland sea of zamami village that wave is quiet, we can enjoy kayak throughout the year.
In the one enjoying kayak recently in family with small child and family three generations. Carrying small child, kayak of type that your parents row in the front and the next is popular midmost.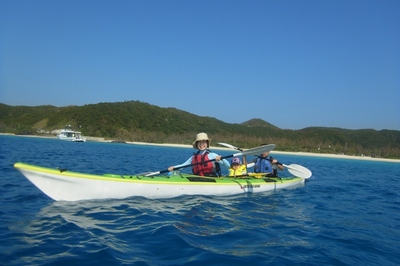 Sea kayaking in Kerama with tour guide
Guide of hometown kayakka which well knows the sea and the topography of Kerama plays an active part in zamami village becoming point of shikayakka attention.
There are several stores specializing in sea kayaking tours and teaches to beginner carefully. He/she informs the exploration of Nature that cave under sheer cliff and small private beach strike uninhabited island again.
It is relief in what we can be taught even if there is difficult place in fast place of tide, unexpected place including place that is easy to run aground.
In addition, sea kayaking classroom and touring for school excursion life and group are carried out, too.

Let's enjoy snorkeling if we row to uninhabited island
Let's enjoy next in the sea if we thoroughly enjoy beauty of the sea to see from the surface of the water. We go to encounter sea turtle by snorkeling and take a ceremonial photograph with anemone fish and. The making of best memory is possible.
There is boathouse keeping kayak and dinghy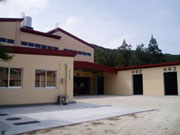 Because repeaters who enjoyed sea kayaking and yacht regularly in beautiful inland sea increased, we built "ocean experience facility, boathouse" with meeting room and shower in zamami village in Ama district.
As you accept storage from 1st, please feel free to contact.
Contact information
Zamami village government office Industry Promotion Section 098-987-3009
■Rate
sabani storage
One year
Monthly basis
36,000 yen
3,500 yen
Dinghy storage
One year
Monthly basis
18,000 yen
2,000 yen
Sea kayaking storage
One year
Monthly basis
18,000 yen
2,000 yen
Shower facility
Ten minutes
100 yen
Meeting room
One hour
1,000 yen
For more details, ask to government office.