We can enjoy this sea even if we do not enter the sea!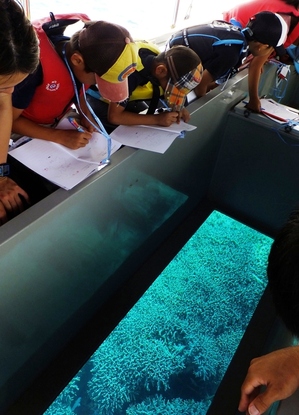 The sea of zamami village has very high transparency, and both kind of coral and creatures are a great variety of. As for the upper photograph, children of zamami village are observing coral in glass boat.
We often call saying "a lot of first fish and coral were seen in glass boat which we got into so far" is saying "you must protect so excellent coral!" from customer who experienced glass boat in zamami village.
 Glass boat is popular with such people.
・It is age group of Kurushima by Shimauchi sightseeing
・Person who accompanies pregnant woman and 1-2-year-old child
・The third generation family (grandmother and grandchild can enjoy together)
・That we catch cold and want to look at in the sea though we are weak in activity of the sea
・Though other tours were called off by bad weather, after all we want to see the sea! One called this
We toss in sea turtle!
 As sea turtle is seen in inland sea of zamami village through the year, probability that even glass boat is seen in is high and may come right under glass. When it is summer season, manta comes, but even glass boat may meet with manta when it is very lucky
Sightseeing in water ship that we can see in the sea different every time when we crowd and look good and can meet lump Japanese hawfinch and octopus, rare fish of gurukun which is sometimes prefecture fish of Okinawa. It is sea Nara of zamami village that can peep out in the sea without changing on cloudy weather and rainy day. Only in the sea, it is point that can enjoy beautiful scenery of islands floating in inland sea during Cruise.
Shop which can enjoy glass boat
Maggie sea club (Zamami Island) TEL: 090-1947-5830
Dive house hermit crab (Zamami Island) TEL: 098-987-2231