Welcome to rich fishing ground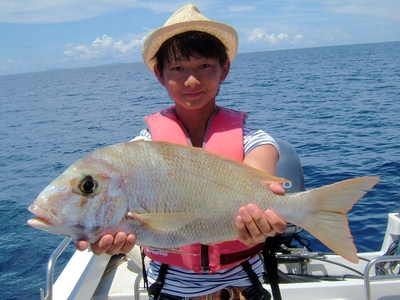 Fishing ground where the beautiful sea is rich. Zamami village is nearby to point. We can enjoy from offing fishing in family to longed-for trolling.
We can catch bonito, irobudai, gurukun, various kinds of fish including taman throughout the year. In rich nature which the south sea gives, please forget time. We perform rental of fishing gear in village.
Characteristic of fishing of zamami village


From comfortable condition that the topography of complicated islands only meant zamami village off a little and hits the open sea, fishing is prosperous, too. We can enjoy both surf-fishing and offing fishing together, and we catch and throw, and uki is the longed-for ground of angler who can taste big fishing let alone Fukase.
Can for GALA, kachu, me by, stew, every take including sailfish tuna; even if untie, is not exaggeration. If want to increase record of catch; is fishing in zamami village by all means!
Fishing at surf-fishing & breakwater
We catch leisurely in beach
If it is the point which can go along land, personal action is fine.
But in restricted area and beach, rocky place enough attention!
Please act carefully.
Fishing that we charter ship
Dynamic challenge of the south sea is possible in zamami village.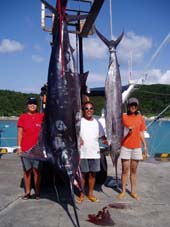 It is trolling in the south sea
Do you not challenge trolling at sailfish, Spanish mackerel, Sheelah, tuna, bonito?
Malin shop heartland (Zamami Island)
TEL: 098-987-2978
In chartered boat
It takes and is used to fun in fishing (basket fishing, fish in the bottom of the sea fishing, Fukase fishing), trolling, trolling, either. Charter service of half day (three hours) or one day (six hours)
TEL: 098-987-3255
Introduction of fishing guide
Offing fishing experience-based & fishing tackle rental
Offing fishing experience of trolling is possible from primary schoolchild to the elderly mainly. Please consult with guide knowing the sea of Kerama well.
Zamami tour operation (Zamami Island)
TEL: 080-1766-6745
Masatoshi Miyahira
TEL: 090-3795-8467
Diving shop erisera (only as for offing fishing)
TEL: 098-987-2775
TOPICS Saturday, May 17, 2013, the third "Zamami cup" holding
(Sachifumi Miyamura practice chairperson) of big game fishing was performed in zamami village sea area, and 24 teams participated from the prefecture outside.
Big catch, luxurious cruisers gathered in Zamami Port, and big game swelled at night this year at commendation party.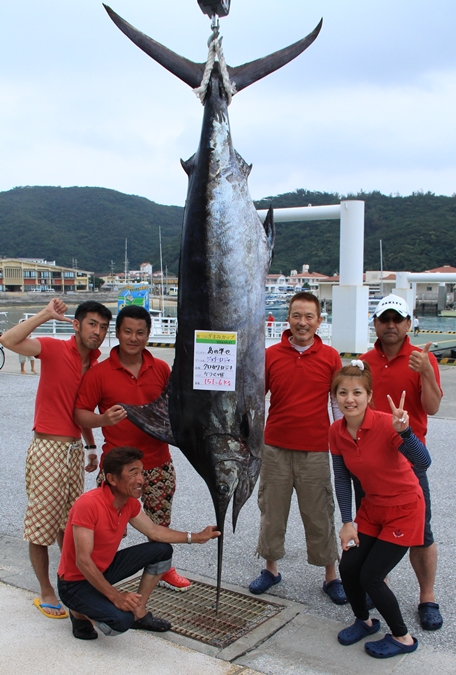 Photograph: 151.6 kg of big shot Prize team "Jolly Roger" fish of the family Istiophoridae sailfishs
Guidance map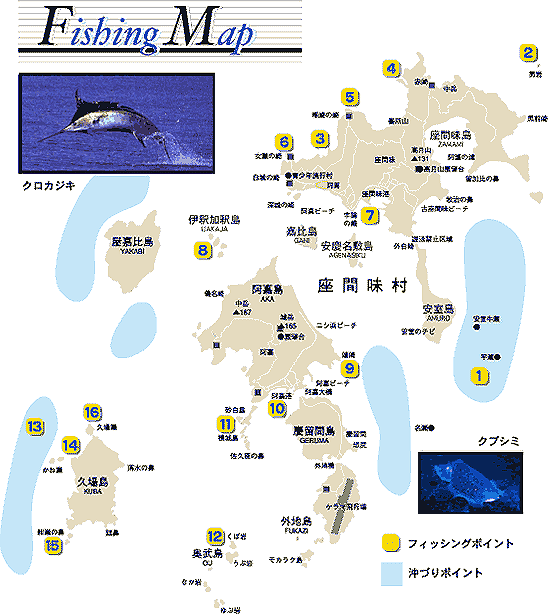 1.Naze
Summer point at GALA, tokakin, kachu, me by, Irabu charr, stew. We throw and are Fukase, uki fishing.
2.Man rock
We can catch gurukun, dirt gin, tokakin, GALA, tokaja from April through November. In the outskirts of this rock, it is pointed offing fishing.
3.The nita beach
We can aim at GALA, taman, Mimi jar, tokaja, dirt gin in summer. We can take into with high probability when we aim with float.
4.Nose of Akasaki
In summer GALA, dirt gin, taman, kachu, tokaja. We can take into tokakin, GALA, kamasa with uki aim. There is much night fishing, too, but be careful about falls.
5.saki of Inazaki
taman, me by, GALA, dirt gin, shija, kachu. From April to September. As for being able to catch 10 kg of classes of me by and GALA.
6.Woman shallows no saki
We can catch taman, me by, GALA, kachu in summer. It is good for night fishing.
7.Zamami Port
kuwagana, juma, katakashi, point of accessory fishing including striped mullet. We can enjoy throughout the year. By uki fishing leisurely.
8.ishakukashakushima
In summer taman, me by, GALA, eguwa, black sea bream man, akaiyu. We aim at middle thing, accessory than big game. We can catch with scattered bait device a lot at night.
9.tansaki
We can catch taman, me by, mouth Naji, shiruicha from April through October. taman aim and Fukase fishing are good with large float, too.
10.Aka fishing port
In summer taman, GALA, kuwagana, shiruicha. Lunch can catch GALA and taman with accessory at night. Even if we enjoy uki fishing in family.
11.Saku original no nose
taman, me by, GALA, stew, tokaja. In the summer. We are not bored with thing fishing among taman, Mimi jars when we let scattered bait work enough.
12.Ou Island
GALA, me by, dirt gin, taman, stew can catch from April through October. As for the point of zamami village No1. Sailfish is good for offing fishing with hollow at the outskirts, too.
12.kyujoshima
We can catch GALA, me by, taman, stew, gurukun, Irabu charr in summer. We throw and are most suitable for thing, accessory fishing during by uki fishing. Night fishing is good, too.
13.kyujoshimakakise
AALA me by, GALA, taman, tokakin, stew. From April to October. As for the results that caught me by of 50 kg. Point with many anglers.
14.kyujoshimakonse no nose
We throw taman, me by, GALA, tokakin and are Fukase, uki fishing in winter in the summer. 10-20 kg of classes rise.
15.kyujoshimakaihana
We can catch taman, me by, shija in summer. By uki aim taman and tokakin. Night fishing is the center.
Inquiries such as other fishing tackle rentals: Zamami village Tourism Association information desk TEL: 098-987-2277
Fishing attention and request
Precaution
With point that rocky place is low in, please wear life jacket by all means.
You check the topography enough, and please mind break in the weather.
In the case of night fishing, please be careful about scaffolds enough.
Manner
Overuse of scattered bait pollutes the sea. Enough consideration.
Garbage is not left, and please take to go.
Do not leave fishing line and lure, needle.
We hope that we do not pollute sambashio.