Walking of zamami village
As for the islands of zamami village, 90% of the whole have abundant green in the fields and mountains and virgin forest
Rich natural observation naturally unhurried in comfortable islands
Islands have many observation decks, and destination can enjoy walking in each.
Kerama azalea is in full glory neatly and can taste artubus and blessings of nature including Wild Strawberries from mid-January through early March.
Walking of rainy season from mid-May through mid-June is recommended, too. Large-scale butterfly ogomadara called lady of forest guides if we enter forest while absorbing smell of forest after rain to look for ruddy kingfisher.
As each observation deck is located north, south, east and west of island, it is carried out a good activity as view varies and goes through a lot of emotional ups and downs. Please go out with drink.
Kumejima and Agunijima, Okinawa Island, the distance can overlook Italy Enoshima.
Various animals and plants which we can discover in Zamami Island, Aka Island, Geruma Island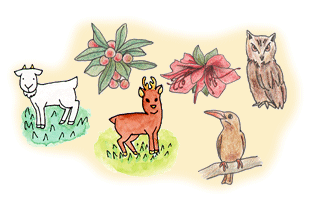 Kerama dimosquito of keramajika = natural monument should be able to encounter in Aka Island, Geruma Island, foreign land island.
As for being along the river in dam and village of kingfisher = Zamami Island
Quiet figure hanging around near amateur heron = cow put out to pasture is seen.
Though we escape when we are going to catch goat = that we became nature, we stare at human state from far away.
Sighting is reported in dam and forest road of ruddy kingfisher = Zamami Island in early morning or the evening. (the photograph right)
We hear cry at ryukyukonohazuku = night. We may appear close to campground.
In artubus = about March, we soak fruit. It is sweet and is delicious.
We soak red small fruit in about the beginning for Wild Strawberries = from April to May.
We flower in the Kerama azalea = beginning of March. Pink and red are beautiful
Pretty flower which blooms on mountain of rainy season in June from Melastoma candidum = May. (the photograph center)
Large butterfly (the photograph left) which is seen in summer from ogomadara = early summer
We will open page to introduce many wild birds and plants to in photograph which person of island took in future. Don't miss it.